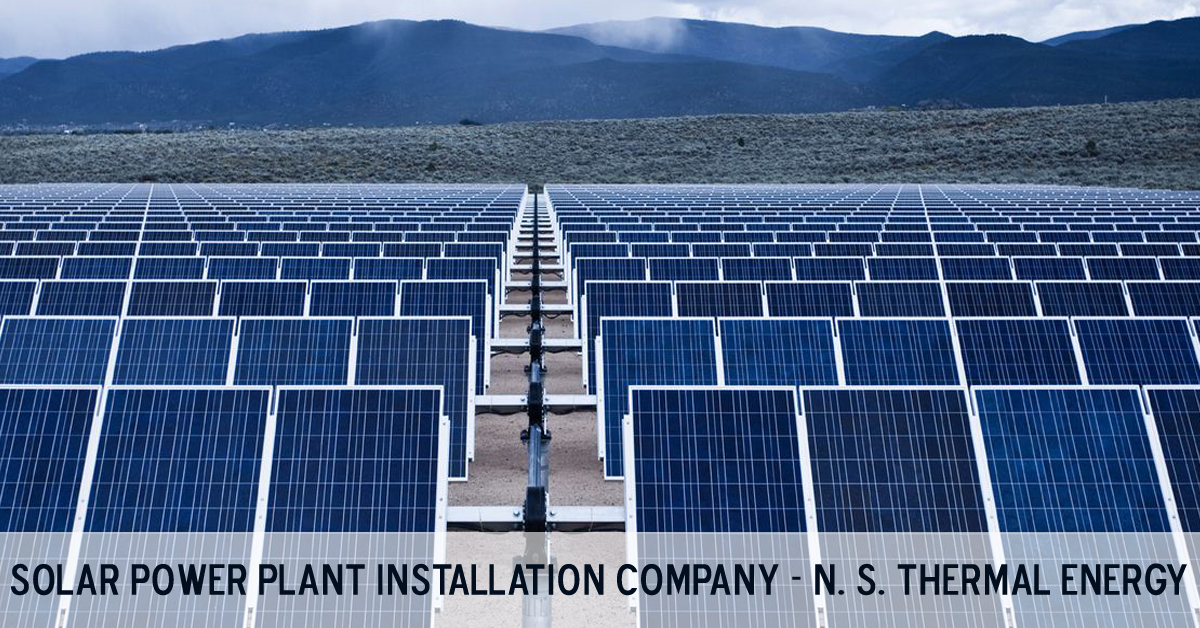 Solar Power Plant Installation Company: N. S. Thermal Energy
N. S. Thermal Energy provides fully forward-integrated and comprehensive EPC solutions to all its clients. We are a Solar Power Plant EPC Company and have a world-class technology to design, install and commission benchmark solar projects worldwide. Moreover, we have the most experienced and highly skilled team members who ensure the completion of each solar plant from concept to commissioning including its operation and maintenance for the complete lifespan of the plant.

N. S. Thermal Energy over the years has developed an internationally accredited expertise in engineering and technology, procurement and project management, construction and commissioning, with a strong command over asset management. Our business work includes the acquisition of, development sites for the servicing and maintenance of completed solar arrays throughout its lifespan.

We are a Solar Power Plant Installation Company and have an experienced Operation & Maintenance team division, which takes preventive and corrective maintenance services for Solar Plants across the nation. With an experience of more than a decade the team operates and maintains Solar Power Plants, offers monthly reporting on the generation and activities, provides project commissioning expertise and manage all the generated data required to enhance the overall productivity .

Every individual can generate their own power with the solar range of compact and efficient solar power packs. These solar ranges are easy to maintain silence and are pollution-free alternative to diesel generators. Most of the solar inverter comes with a solar panel, battery and inverter which can give you power when it is most required.

We are a Solar Power Plant Construction Company and have a significant experience in designing, developing and deploying megawatt scale projects across India and abroad. Our designs can beat the escalating cost of conventional energy with a customized solar solution, integrated with your existing infrastructure.

Our services include professional financial and physical asset management solutions, revenue assurance, ongoing maintenance and repairs, and complete operational solutions for us across India. The installation of different solar panels like combination of micro grids, solar lanterns, solar water pumps and home lighting systems have helped communities reduce their dependence on kerosene lamps and diesel generators.

We are aware of the pulls and pressures of the business and we also understand government support structures. More over we have helped countless businesses to benefit from our schemes for around a decade to enable solar across all business continues.

Moreover, we understand what capital expenditure on solar power installations is needed and how much difficult it is for some businesses to go ahead with solar plant installation.
Tags :solar power plant construction company, solar power plant installation company, solar power plant epc company, solar plants.