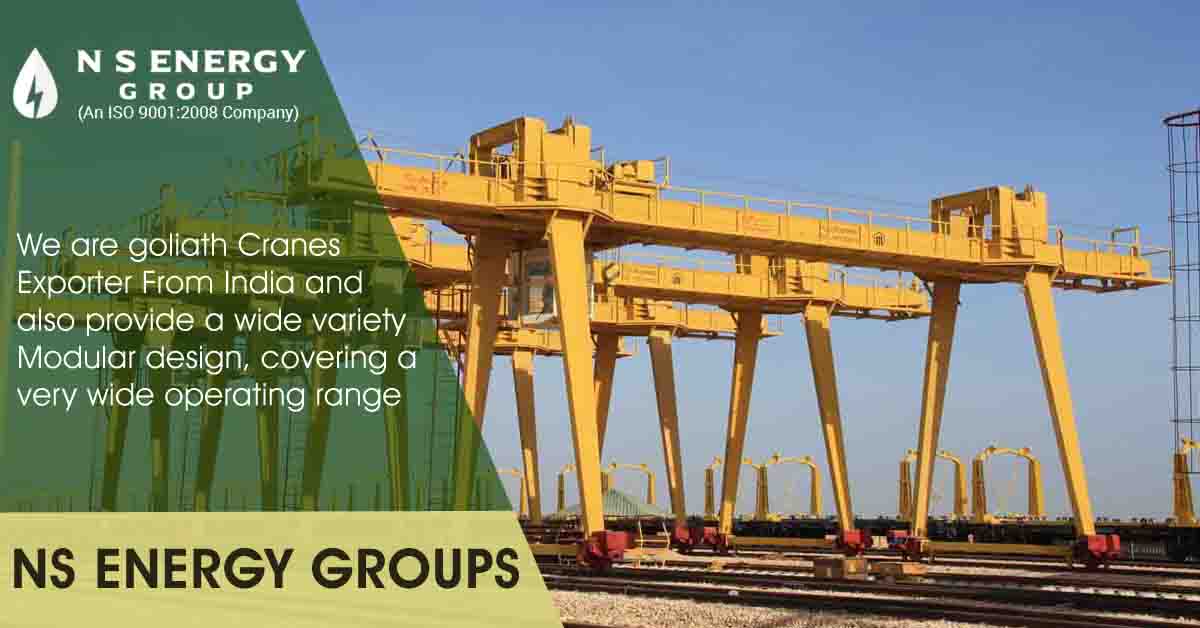 Leading Designer and Manufacturer of Goliath and Gantry Cranes on India
We are one of the leading Designers and Manufacturers of cranes in the country, and have been involved in the design and manufacture of cranes from our inception. Because of our innovations and foresightedness of the requirement of cranes in our country, we have taken up the task of standardization of cranes, which till date has been one of the greatest achievements of the Indian Crane Industry.
At N. S. Energy Group we manufacture Goliath Gantry Cranes which have been increasingly used in the various industry from the time of our inception. We have the best cranes with their size and lifting capacity becoming larger as the per the needs and their building blocks increased. We have existing designs which assures very large metallic structures which is currently offered by the crane manufacturers and can have a lifting capacity of maximum in tons. We are the leading Goliath Cranes Manufacturers From India.
Depending on the capacity & application, we design cranes as single girder or double girder and also as per the requirements of our customers. All our cranes are easy to install and ensures maximum rigidity with a minimum dead weight. We also manufacture cranes which are of compact dimensions, low weight, easy to operate and easy to maintain. All our products are safe and sustainable and are in compliance with ISO 9001 (Quality).
Along with our product we also provide assistance in the installation, safety measures and training for operations & maintenance, as well as inspections and after sales services. We also provide flat precise spur gear units in light alloy housings with hardened gears, high-grade surface treatment and permanent oil / grease lubrication for the goliath cranes.
We are Goliath Cranes Exporter From India and also provide a wide variety Modular design, covering a very wide operating range. The systems are designed for ease of installation and maintenance and reliable operation, with fuse less circuitry. All our cranes are safe and reliable and have a higher efficiency to save power. There are three types of service which we provide on a Goliath crane structure during its lifetime. It includes its maintenance, reconditioning or refurbishment and enhancement of technical/operational life.
Our first service which includes maintenance lasts over the entire life of the structure. The second service of reconditioning or refurbishment commences at about 20 to 25 years of age of the crane depending on the rate of utilization as well as on quality of maintenance which is applicable for approximately 15 years, superimposed on the first.
Tags :goliath cranes manufacturers, gantry cranes manufacturers, goliath cranes exporters